EP1 Titanium
EP1 Titanium - Polished is backordered and will ship as soon as it is back in stock.
---
Made with premium materials, the titanium model is our lightest offering. The body, top cap, tip, and even the thumb stud are all machined out of a single block of grade 5 titanium. The pocket clip remains stainless steel due to having better spring memory over time. Being light weight, high strength, and corrosion resistant makes this a winning combination.



 

Designed and Developed in Huntington Beach, CA

 
Dimensions

115mm x 10mm (4.53" x 0.39")

Weight

▴ Weight: 24g (0.9oz)

Features

▴ Made with grade 5 titanium
▴ Stainless steel pocket clip
▴ Removable Custom deep carry pocket clip
▴ Copper Piston Bolt-Action
▴ Compatible with most Parker G2 style refills
▴ Custom Torx T6 hardware

What's Included

▴ Titanium EP1 Pen
▴ Black Schmidt easyFLOW 9000 M ink
Choose your metal
The EP1 comes in six different materials.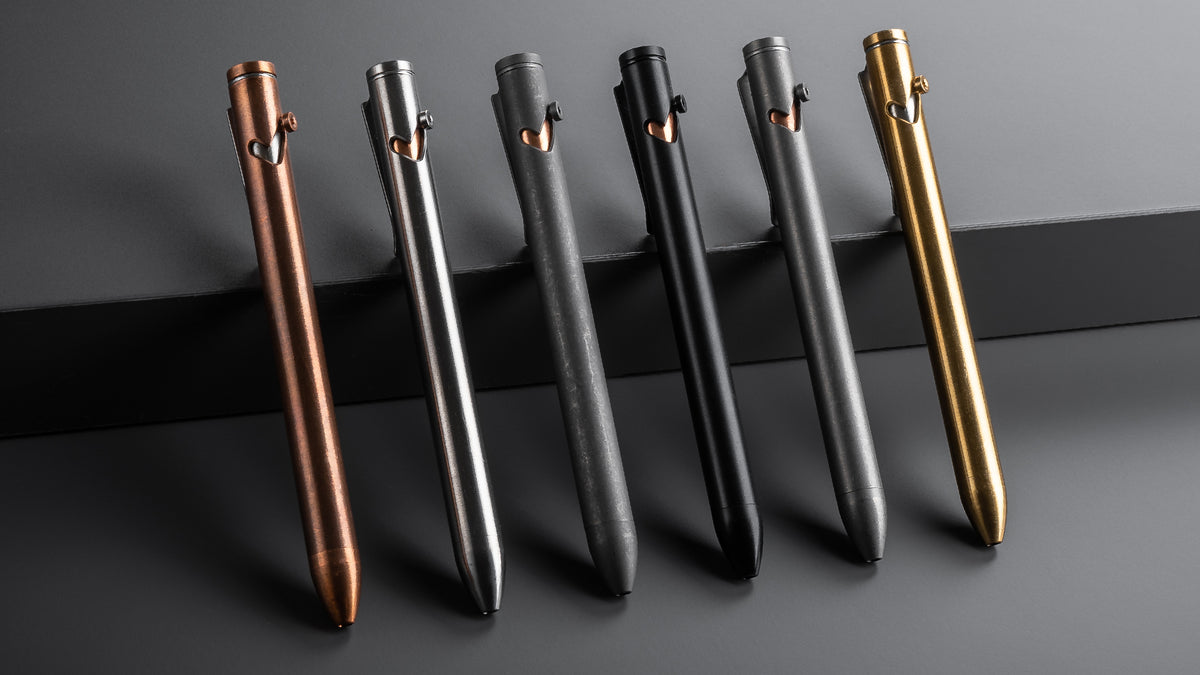 The perfect fidget friendly companion. Bundle and save when you order together.
If you are looking for something longer, check out our EP1L
Simply Better
Lifetime Warranty

We'll take care of any reasonable issues that you may have. For life.

Minimal Design

Only quality materials and only what is needed.

Bolt Action

The unique grooved channel of this pen allows opening and closing in one fluid motion.

Removable Clip

If pocket clips aren't your thing, then simply remove it for a cleaner look.

Customizable

Choose from hundreds of ink refills to match your style.

Reduces Waste

More than 1.6 billion disposable pens are thrown away each year.